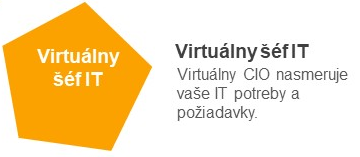 Virtual CIO
The Virtual CIO (chief information officer) is a service that will help you set up your IT in accordance with your corporate requirements, demands, directives and laws (eg GDPR).
We will help you to plan, make decisions, minimize risk, manage costs and support your company's growth with IT technology.
We can cover almost all areas related to Information Technology. We rely on our more than 20 years of experience in strong corporate IT as well as local implementations. We work and learn from companies with more than 50,000 employees in all EU countries.
We apply the acquired experience sensitively also to small and medium-sized companies according to their needs.